Written on 30th May 2022.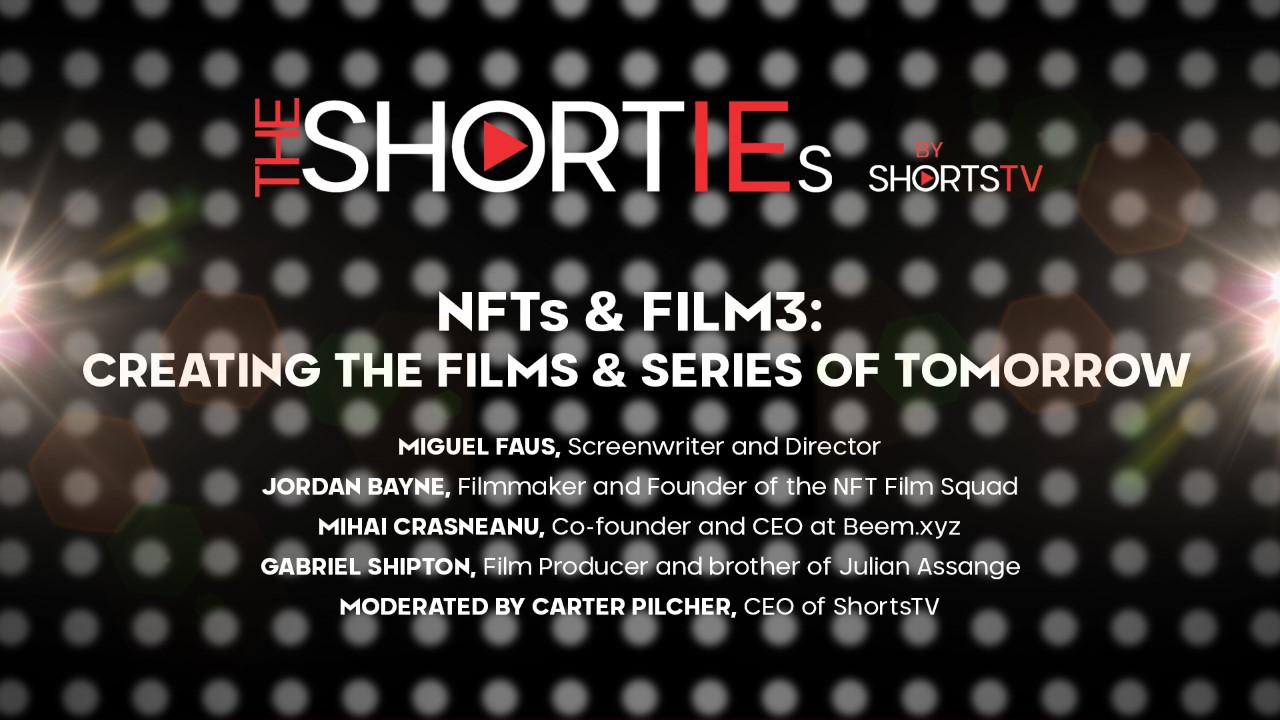 Everyone is talking about Web3, cryptocurrencies, and NFTs nowadays and within the film industry how to best make use of these developments in technology to get films financed, produced, and seen by audiences around the world.
It was the most exciting topic at the 2022 Cannes Film Festival and we kicked it off with four leading pioneers in film NFTs who discussed the advent of Web3 / Film3 and the coming disruption of the global film industry.
Keynoting the panel was Gabriel Shipton, the brother of Julian Assange, who advised the Assange DAO that raised $54 million in February 2022 and subsequently invested the proceeds into the second biggest selling NFT of all time. Assange DAO was raised to publicise Assange's struggle and to cover the costs of his release. Gabriel also raised a separate crypto fund to produce a new feature documentary detailing the Assange family story, called ITHAKA.
Also joining the panel was Miguel Faus, Screenwriter and Director of the first European movie ever financed by NFTs which starts production in September 2022, Jordan Bayne, Filmmaker and founder of the NFT Film Squad, and Mihai Crasneanu, Co-founder and CEO at Beam.xyz, the first Web3 streaming and live events platform for film, music and other creators. It was the first time these pioneers in Film3 had appeared together at a film festival.
The panel focused on the growing pace of Web3/Film3 technologies, and how they are disaggregating the studio system and changing the way filmmakers raise funding and distribute content.
"Content creation is still very important and profitable, the problem is that 95% of that revenue is going to the platform", said Faus.
Crasneanu added, "Web3 is about ownership. For too many years, the industry put creators in a box where it told them to just create and not worry about business and legal issues. That enslaved most of the creators to work for someone else, but with Web3 they have the possibility of learning more about their world and taking ownership of it."
Gabriel Shipton commented, "one of the most important things about cryptocurrencies for filmmakers is that they are censorship-resistant. In this industry where there are lots of gatekeepers telling people what to watch, filmmakers will find that using cryptocurrencies to raise funds for their projects will give them a lot more freedom and enable them to successfully raise money for projects that they wouldn't have been able to via traditional studios."
The panel was moderated by Carter Pilcher, CEO of ShortsTV, who said "The new financial technologies of Web3/Film3 are completely changing the model for film creators.  It gives audiences a ringside seat as content is developed and allows filmmakers to cut out the middlemen who are preventing them from realising their full potential. We're excited to be a part of this growing community as we explore ways to use NFTs to support emerging creative talent as they develop the short films, features, and series of tomorrow."
Explore Our Latest Events
Asia
Latin America and Spain
North America
Rest of the World