The Pitch - Netherlands Film Festival 2017
Written on 9th August 2017.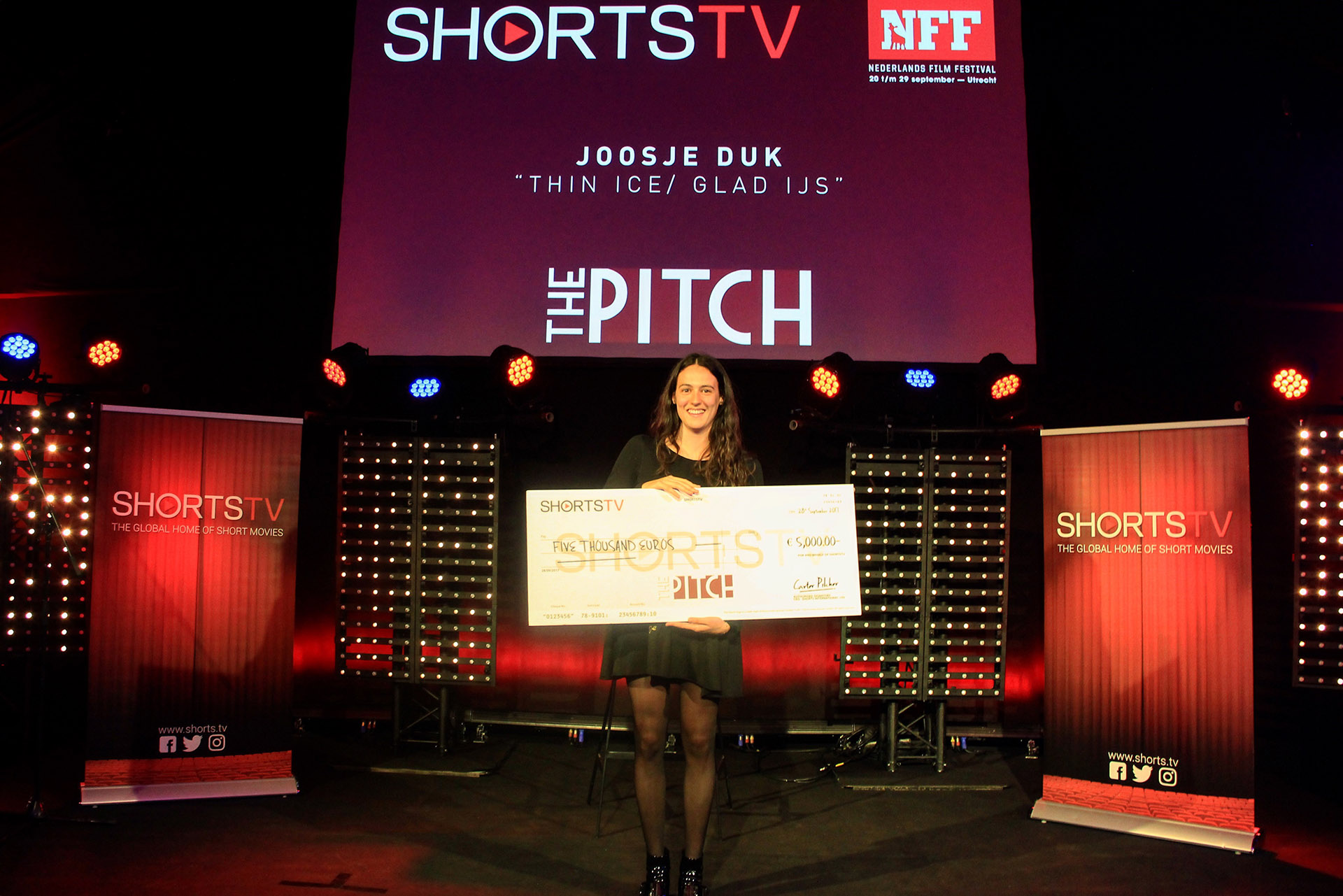 For the sixth year in a row, ShortsTV hosted The Pitch competition at the Netherlands Film Festival (NFF).
The Pitch gives filmmakers the opportunity to pitch their next short film idea to our expert jury panel for the chance to win 5000 Euros production funding and broadcast of the finished film on ShortsTV around the world.
Ten local filmmakers were invited to pitch their ideas to us in Utrecht. In the first round, they each had one minute to pitch to our cameras. A jury consisting of a representative from ShortsTV and one from NFF then watched the pitches and show reels of past work to decide which five should progress to the live final at the festival pavilion.
The final was dominated by strong female filmmakers with four of the five finalists being female directors and producers.
Bo van der Meer & Loes Komen pitched their documentary idea 'Cheek to Cheek', which follows the lives of three elderly residents of care homes who love to dance. Roxanne Stam pitched her five minute non-dialogue short film idea 'Bullshit', about a waitress who needs to…err…"poop" while at work but is embarrassed to do so, which Roxanne hopes will bring the subject of "poop" into the mainstream! Joosje Juk pitched her short film idea 'Thin Ice/Glad Ijs', about society's constant fear of terrorist attacks and how it might impact our perceptions of other people. And Sophie van de Pol pitched her short film idea "Fucking Cola", about a boy with a severe stutter who just wants to be heard and one day surprises his family by speaking up. They were joined by Ilia ten Bohmer and his producer, Charlotte Spronk, who pitched their short film idea 'In Summer/In de Zomer', a story about first generation Turks that moved back to Turkey from the Netherlands, and second generation Turks that stayed behind.
Our jury panel consisted of ShortsTV CEO, Carter Pilcher, NFF Head of Industry, Vanja Kaludjeric, and Dutch actress and director, Dewi Reijs.
In the end, they were won over by Joosje Duk and her idea 'Thin Ice/Glad Ijs'. Joosje walked away with the cheque for 5000 Euros and plans to make her film in the coming year and premiere it at the 2018 Netherlands Film Festival.
Stay tuned to ShortsTV to see Joosje's film idea come to life!
Explore Our Latest Events
Asia
Latin America and Spain
North America
Rest of the World