ShortsTV to Broadcast the '2022 Oscar® Nominated Short Films'
Written on 15th Dec 2022.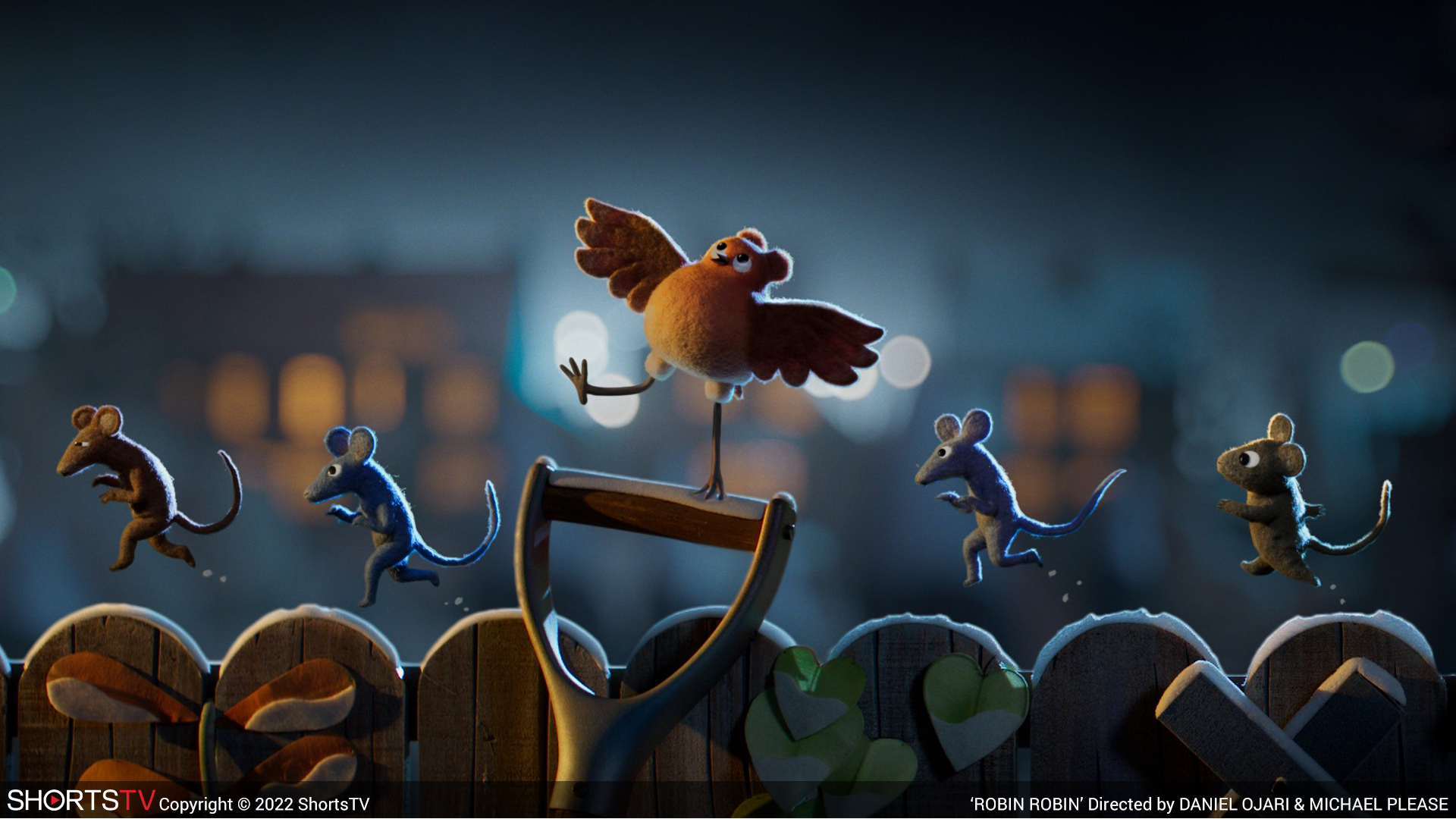 The TV event this December marks the start of the 2023 Oscar® season
LONDON, 15 December, 2022 – ShortsTV, the global short film network, is bringing the '2022 Oscar® Nominated Short Films' to TV this December, with two special programmes showcasing all of this year's nominated shorts in the live action and animation categories.
The animation collection includes the heartfelt Christmas short 'Robin Robin' from Aardman Animations ('Wallace & Gromit'), while the live action release features the Academy Award® winning drama 'The Long Goodbye', starring Riz Ahmed ('Sound of Metal', 'Four Lions').
"From heart-warming family adventures to thought-provoking dramas, there is something for everyone in this year's Oscar® Shorts," said Jade Tan, ShortsTV's Director of Programming. "'Robin Robin' has bags of charm and a voice cast that includes Richard E. Grant. Multi-talented Riz Ahmed delivers a visceral and thought-provoking dark vision of Britain in 'The Long Goodbye'. We are truly delighted to be connecting audiences with some of the most interesting viewing on any channel over the Christmas holidays," added Tan.
"The holidays are a great time to catch up on fantastic films that you might have missed during the year," said Carter Pilcher, CEO of ShortsTV. "The 2022 Oscar® Shorts were some of the best movies of the year and nobody should start 2023 without seeing them," added Pilcher.
The 2022 Oscar® Nominated Shorts Animated Collection will air on 20 December on ShortsTV (EMEA) at 9.00 p.m. CET, ShortsTV (US) at 10.00 p.m. ET/PT, and TVCortos (LATAM) at 11.00 p.m. (ART); and on 22 December on ShortsTV (India) at 11.00 p.m. (IST). The 2022 Oscar® Nominated Shorts Live Action Collection will air on 24 December on ShortsTV (EMEA) at 10.00 p.m. (CET), ShortsTV (India) at 11.00 p.m. (IST), and TVCortos (LATAM) at 10.00 p.m. (ART). Both collections will be repeated in key slots over the holiday season in December. The releases are also available on-demand on ShortsTV with Prime Video Channels in the UK and on TVCortos with Prime Video Channels in Spain.
A full list of the 2022 Oscar® nominated live action and animation nominees can be found in the appendix below.
***
About ShortsTV
ShortsTV is the first and most popular worldwide channel and network dedicated to short films. The channel is available in over 130 million homes across the US, India, Latin America, and Europe. With over 13,000 titles, ShortsTV has the world's largest catalogue of quality short film offerings, including award-winning and star-studded live action, animated and documentary shorts. From content offerings and various distribution/licensing deals to presenting the Oscar® Nominated Short Film releases for 17 years, ShortsTV seeks to amplify the voices of filmmakers around the world. As the leading advocate for short filmmakers globally, ShortsTV is also proud to be the initial and vital steppingstone for short film creators at the beginning of the content development funnel.
ShortsTV is owned by Shorts International Ltd, is headquartered in London, England and is represented in the US by Shorts Entertainment Networks, a wholly owned subsidiary located in Los Angeles. The company is led by Chief Executive Carter Pilcher and is majority owned by Shorts Entertainment Holdings with AMC Networks as a significant minority shareholder.
For more information, please visit: https://shorts.tv/.
UK PR CONTACT
Ben Simons / Kendall Hill, Vigo Consulting, [email protected]
APPENDIX
2022 OSCAR® NOMINATED ANIMATION SHORT FILMS
AFFAIRS OF THE ART (2021)
Director: Joanna Quinn
Synopsis: With Affairs of the Art, director Joanna Quinn and producer/screenwriter Les Mills continue the series of beloved, hilarious and award-winning animated UK films starring Beryl, a 59-year-old factory worker who's obsessed with drawing and determined to become a hyper-futurist artiste. We also meet her grown son, Colin, a techno geek, her husband, Ifor, now Beryl's model and muse, and her sister, Beverly, a fanatical narcissist living in LA. Affairs of the Art provides glimpses into Beryl's, Beverly's and Colin's peculiar childhoods, and we see that obsession is in this family's DNA. The first co-production between Beryl Productions International and the National Film Board of Canada, Affairs of the Art features Quinn's signature hand-drawn animation with attitude and Mills' raucously humorous scenarios, in an endearing romp through one family's eccentric addictions.
Country of Origin: UK/Canada
BESTIA (2021)
Director: Hugo Covarrubias
Synopsis: Inspired by real events, Bestia enters the life of a secret police agent in the military dictatorship in Chile. The relationship with her dog, her body, her fears and frustrations, reveal a macabre fracture in her mind and a country.
Country of Origin: Chile
BOXBALLET (2021)
Director: Anton Dyakov
Synopsis: Delicate ballerina Olya meets Evgeny, a rough boxer who personifies "strong but silent." With very different lives and worldviews, will they be brave enough to embrace their feelings? Can two fragile souls hang on to each other despite the world's cruelty?
Country of Origin: Russia
ROBIN ROBIN (2021)
Director: Daniel Ojari, Michael Please
Synopsis: ROBIN ROBIN, an Aardman Production is the tale of a small bird with a very big heart. After a shaky nativity of her own – her unhatched egg falls out of the nest and into a rubbish dumpster – she comes out of her shell, in more ways than one, and is adopted by a loving family of mice burglars. More beak and feathers than fur, tail and ears, more cluck and klutz than tip-toe and stealth, she is nonetheless beloved by her adopted family, a Dad Mouse and four siblings.
As she grows up, though, her differences make her something of a liability, especially when the family take her on furtive food raids to the houses of the humans (pronounced 'Who-mans') in the dead of night. Neither fully bird, nor fully mouse, Robin embarks on a food heist of her own to prove herself worthy of her family and also, hopefully, to bring them back a Christmas sandwich. Along the way, she encounters a curmudgeonly magpie who has a house full of glittery things that he's stolen and, as it turns out, an unlikely heart of gold. He has set that heart on stealing the sparkling star from the top of a local who-man family's Christmas tree. And who better to help him than the eternally optimistic Robin herself. The adventure brings them face-to-terrifying-face with a menacing, yet very cool Cat, who has a warm place for birds and mice alike: her tummy. Can they survive? Can they bring home the sandwich and the star? And, most of all, can Robin discover, and learn to love, who she really is, delighting her family and earning her wings in the process?
Country of Origin: UK
THE WINDSHIELD WIPER (2021)
Director: Alberto Mielgo
Synopsis: Inside a cafe while smoking a whole pack of cigarettes, a man poses an ambitious question: "What is Love?". A collection of vignettes and situations will lead the man to the desired conclusion.
Country of Origin: Spain
2022 OSCAR® NOMINATED LIVE ACTION SHORT FILMS
ALA KACHUU – TAKE AND RUN (2020)
Director: Maria Brendle
Synopsis: Sezim, 19 years old, wants to fulfill her dream of studying in the Kyrgyz capital when she gets kidnapped by a group of young men and taken to the hinterland. There, she's forced to marry a stranger. If she refuses the marriage, she is threatened with social stigmatization and exclusion. Torn between her desire for freedom and the constraints of Kyrgyz culture, Sezim desperately seeks a way out.
Country of Origin: Switzerland
ON MY MIND (2021)
Director: Martin Strange-Hansen
Synopsis: Henrik wants to sing a song for his wife. It has to be today, it has to be now. It's a question of life, death and karaoke.
Country of Origin: Denmark
PLEASE HOLD (2020)
Director: KD Davila
Synopsis: In the not-so-distant future, MATEO (20s, Latino) is arrested by a police drone without explanation. Finding himself locked in a fully automated jail with no means of recourse, Mateo realizes he's fallen through some kind of crack in the system. To get out alive he'll have to go head-to-head with the labyrinthine, computerized bureaucracy of the privatized American justice system, in search of an actual human being who can set things right.
Country of Origin: USA
THE DRESS (2020)
Director: Tadeusz Lysiak
Synopsis: Lust, sexuality and physicality. These are the deepest desires virgin Julia suppresses while working at a wayside motel. That is until she crosses paths with a handsome truck driver, who soon becomes the object of her fantasies…
Country of Origin: Poland
THE LONG GOODBYE (2020)
Director: Aneil Karia
Synopsis: Riz and his family are in the middle of preparing a wedding celebration when the events unfolding in the outside world arrive suddenly on their doorstep. The result is a devastating and visceral feat of filmmaking, and a poignant poetic cry from the heart.
Country of Origin: UK