Shorts International Appoints Valerio Motti to Drive EMEA Growth
Written on 10th Mar 2021.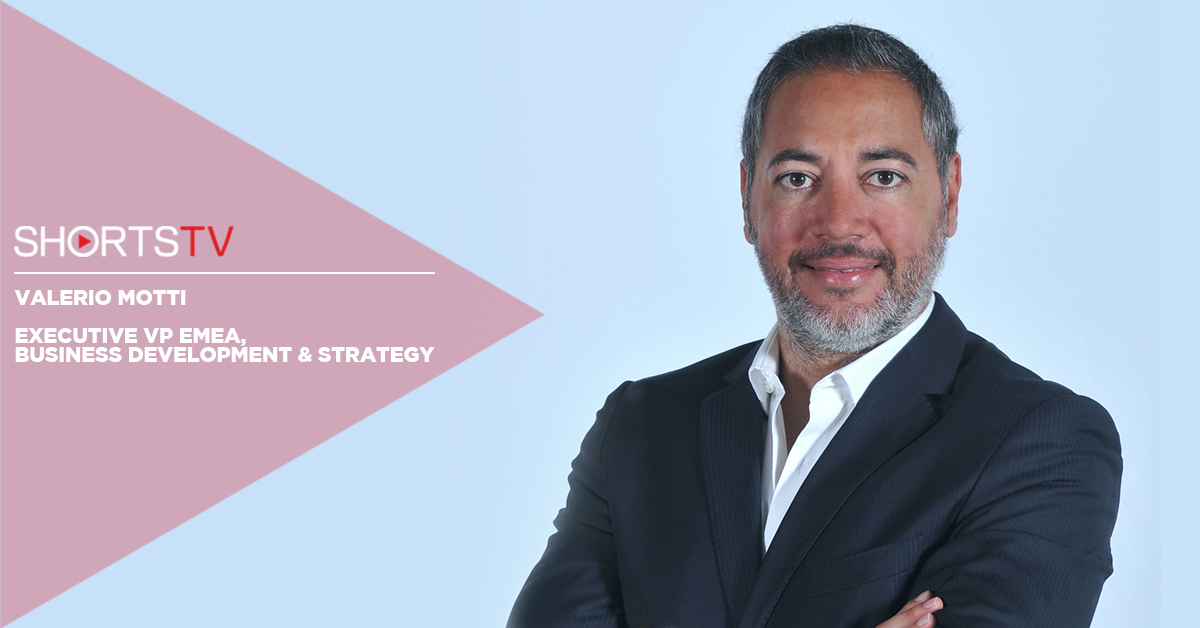 London (March 10, 2021) — Shorts International, owner of the ShortsTV global network dedicated to short-form video entertainment, has appointed London-based Valerio Motti as Executive Vice President EMEA, Business Development and Strategy.
Motti will share responsibility for all aspects of ShortsTV's EMEA market presence, with primary responsibility for driving revenue growth and customer acquisition for the ShortsTV linear channels and mobile and OTT services. In addition to growing ShortsTV's presence in existing EMEA territories, including the UK, France, Italy and Spain, Motti will lead the development of new markets in Southern Europe, the Middle East and Africa.
Motti brings 15 years of international experience, working for TV, media, internet, and telco giants including ViacomCBS, AOL-Time Warner (Verizon Media), Mediaset and Telecom Italia. Most recently, as Vice President, Business Development, Digital Media and Content Distribution for ViacomCBS, Motti led multinational strategic projects including the launches of new OTT streaming services and linear TV channels. He was responsible for closing several multi-country commercial and partnership deals with major pay-TV, OTT and telco operators.
"We are delighted to welcome Valerio to Shorts International during what is a hugely exciting period of growth for short form entertainment consumption globally," said Shorts International Chief Executive, Carter Pilcher. "After years of investment in the development of ShortsTV's OTT and mobile services, we believe Valerio has exactly the right experience to drive the rollout of these amazing products, engineered for short form viewing behavior, in EMEA markets alongside the established ShortsTV linear channels," continued Pilcher.
Motti will have final co-responsibility for all ShortsTV activity and products in EMEA, including content acquisition oversight, programming, marketing, and brand development.
"Streaming and mobile are key areas for our growth and future success. We will launch into an aggressive phase of business expansion in Europe, the Middle East and Africa leveraging our unique short form product offering," said ShortsTV Executive Vice President EMEA, Business Development and Strategy, Valerio Motti.
About ShortsTV
ShortsTV is the first and only 24/7, linear and OTT HD TV channel dedicated to short form video entertainment, including films and series. With over 13,000 titles, ShortsTV has the largest catalogue of quality short form video entertainment, including award-winning and star-studded live action, animated and documentary shorts from filmmakers around the globe. Distributed globally, the channel is available in over 100 million homes across the US, India, Latin America and Europe. ShortsTV is available in the UK, Netherlands, Italy and Spain on Amazon Prime Video Channels, and on demand through iTunes (92 countries), Amazon Instant Video (UK, US and Germany), Google Play (US and Canada), Verizon and Frontier (US) and Tata SKY (India).
Since 2006, ShortsTV has presented the 'Oscar Nominated Short Films' theatrical release in cinemas across the US and Canada, South America, Europe, India, Australia and South Africa.
ShortsTV is owned by Shorts International Ltd, is headquartered in London, England and is represented in the United States by Shorts Entertainment Networks, a wholly owned subsidiary located in Los Angeles. The company is led by Chief Executive Carter Pilcher and is majority owned by Shorts Entertainment Holdings, with AMC Networks as a significant minority shareholder.