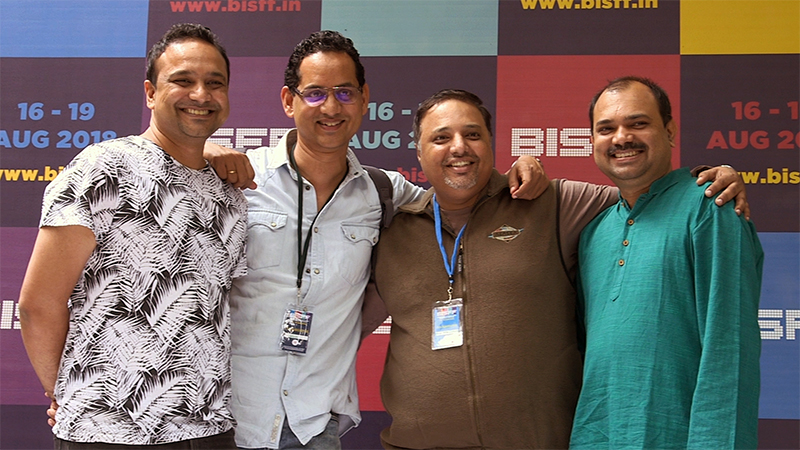 ShortsTV has landed in India!
Now available exclusively on Tata Sky channel HD 112 and SD 113, ShortsTV brings you the best short movies from India and around the world, plus original shows that put the spotlight on emerging and established talent and bring you into the fast-paced world of short filmmaking.
One of our shows, 'Festival Road Trip', travels to a wide range of short film festivals around the world from the US to the Netherlands, Belgium and beyond, and follows filmmakers throughout their entire festival experience from screenings to award ceremonies.
To celebrate the launch of ShortsTV in India, our production team flew to Bengaluru to cover one of India's premier short film festivals, the Bengaluru International Short Film Festival (BISFF), which screens over 200 films from 50 countries around the world.
As it was our production team's first time in India, they decided to tweak the format of the show for the BISFF.
Talking about the revamped format, ShortsTV Director & Producer, Max Clendaniel said, "We wanted to take the Festival Road Trip format and make it more about every filmmaker instead of one person in particular. Much like Anthony Bourdain's Parts Unknown, the goal was to highlight the country's food, history and culture as this is what a filmmaker would experience during their time at a film festival. This felt particularly right for a unique place like India."
Bengaluru, the 'Silicon Valley of India' is the second fastest growing city in India, with large IT infrastructure companies based in the city. The city is also home to the Kannada film industry (the fourth largest film industry after Hindi, Telegu and Tamil). Filming in Bengaluru had some challenges for the production team, particularly at market places where crowds and traffic congestion were an issue, but overall the filming experience was a positive one.
"Filming in Bengaluru was a sensory overload," said Max. "Everything from the distinct faces to the colours and outfits was so different to what we are used to and was fascinating. Everything was so filmable as well, in fact I couldn't stop filming! The friendliness of the locals was also a big positive. They were always happy to be filmed and embraced the camera-lens candidly, which was great for us."
This being India we of course had to talk food. Max's favourite dish? "The Pudi Dosa. As an American I would describe it as a giant spicy crumpet!"
Tune in to Festival Road Trip: Bengaluru International Film Festival at 20:30 on Sunday 13 January to see more of what Max and the team got up to in Bengaluru and learn about what this fantastic short film festival has to offer! Only on Tata Sky channel HD 112 and SD 113 – subscribe here: bit.ly/2OLOuFO