Best of India Short Film Festival 2019
Written on 25th August 2019.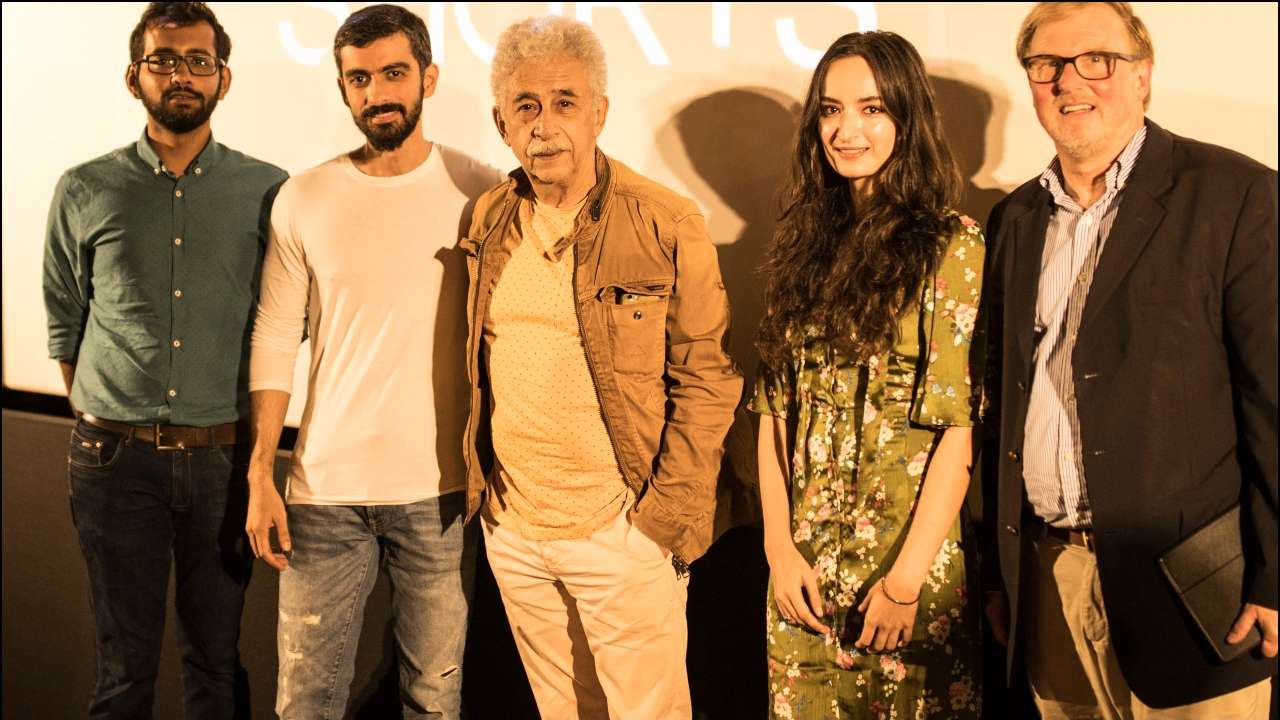 Critically acclaimed short films Half Full, featuring veteran actor Naseeruddin Shah and Vikrant Massey, and Counterfeit Kunkoo, written and directed by Reema Sengupta, were declared winners of ShortsTV's Best of India Short Film Festival 2019.
A special screening was conducted in Mumbai to announce the winners. Present at the occasion were veteran actor Naseeruddin Shah, winning directors Karan Rawal (Half Full) and Reema Sengupta (Counterfeit Kunkoo), along with Chief Executive of ShortsTV, Carter Pilcher.
Half Full is a 12-minute short film that focusses on the trials and tribulations of a young man (Vikrant Massey) who is undergoing an internal conflict. One night, he encounters an old man (Naseeruddin Shah) and a strange vibe develops between the two leading to some sarcastic and vague questions. The other winner, Counterfeit Kunkoo is a 15-minute short film which is based on the life of a middle-class Indian woman named Smita who lives without her husband. The film offers an intimate perspective on the identity of the 'Ideal Indian Female' in the urban India of today.
Expressing his happiness on winning the award, Half Full actor Naseeruddin Shah said, "It's a proud moment for the entire cast and crew of Half Full. I am happy to note that discerning Indian audiences are moving towards short format content and ShortsTV has taken this initiative to provide an ideal platform to Indian filmmakers and actors. I am also glad that we finally have a destination where one can watch the best of curated short format content from across the world."
Commenting on the initiative, Mr. Carter Pilcher, Chief Executive of ShortsTV said, "India's love affair with short movies has taken off since launching ShortsTV here late last year.  Our audiences can't get enough of them. Both Bollywood and Hollywood are starting to take notice, and it's exciting. We created the Best of India Short Film Festival to get Indian talent into the mainstream of the Academy of Motion Pictures Award consideration – and to give Indian talent a chance to bring home an Oscar that was "made in India."  We are the only short film festival in India whose prize is Oscar qualification, and the world better watch out —ShortsTV and the amazing talent here in India are going to bring home an Oscar!"
Meanwhile, the other short films amongst the finalists selected to screen in Los Angeles and become qualified for Oscar consideration were Unfamiliar by Rahat Jain and Maya by Vikas Chandra. These are also eligible for a television broadcast deal on ShortsTV.
Congratulations to all the winning films!
Explore Our Latest Events
Asia
Latin America and Spain
North America
Rest of the World